I'm always on the search for something quick (ready in 25 min) and easy to make for dinner.  The hubby always requests meat for the main dish, so if he didn't oppose, I would totally have eaten this as a main dish.  Why is it that men always want meat with their meal?  I could live without it for the most part.  Give me a salad or pasta any day of the week over a meal of meat.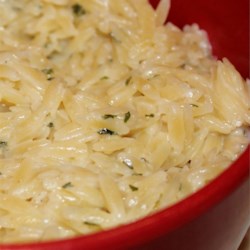 Paremsan Garlic Orzo (Serves 4)
–  2 cups orzo pasta
–  1/2 cup butter
–  1/4 cup minced garlic (decrease by half if you don't want it too garlicky)
–  1/2 cup Parmesan cheese
–  1/4 cup milk
–  1 tsp each of salt and pepper
–  2 Tbsp chopped, fresh parsley (i used dried)
Bring a large pot of lightly salted water to a boil. Cook orzo in the boiling water, stirring occasionally until cooked through but firm to the bite, about 11 minutes. Drain.
Melt butter in a skillet over medium heat; cook and stir garlic in melted butter until lightly browned, about 5 minutes. Stir orzo into garlic mixture and mix in Parmesan cheese, milk, salt, black pepper, and parsley.